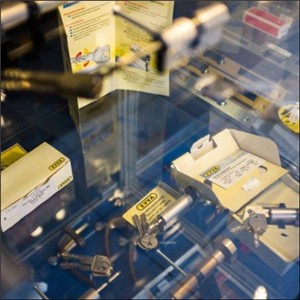 Montaż zamków oraz wymiana zamków to usługi, którymi katowickie Pogotowie zamkowe z dzielnicy Bogucice zajmuje się każdego dnia. Ślusarze zatrudnieni w naszej firmie posiadają odpowiednie kwalifikacje zawodowe oraz umiejętności, dzięki którym usługi te zawsze wykonywane są na najwyższym poziomie! Montowanie zamków oraz ich wymiana to usługi realizowane solidnie oraz z ogromną precyzją.
 
Pogotowie zamkowe Katowice Bogucice zajmuje się także awaryjnym otwieraniem drzwi oraz awaryjnym otwieraniem samochodów. Gwarantujemy, że wszystkie usługi ślusarskie znajdujące się w naszej ofercie, wykonywane są natychmiastowo! Już w kilka chwil po przyjęciu zgłoszenia, pojawiamy się pod adresem wyznaczonym przez Klienta.
W ofercie handlowej Pogotowia zamkowego znajdą Państwo zamki Gerda oraz zamki Dierre. Te systemy antywłamaniowe posiadają certyfikaty i atesty świadczące o wykorzystaniu do ich produkcji najlepszej jakości, solidnych materiałów.
Wymiana i montaż zamka w drzwiach to usługa w której się specjalizujemy – Zapraszamy!
Telefon: 662-869-662
Czynne: 24 h / dobę
Kompleksowe obsługa ślusarska w Katowicach

Zajrzyj do naszego sklepu internetowego z zamkami (www.kupzamek.pl)

Sklep z zamkami do drzwi antywłamaniowych
Katowice ul. Morcinka 11
Do sklepu zapraszamy od poniedziałku do piątku
w godzinach 9:00 – 17:00

Potrzebujesz więcej informacji na temat naszych usług? Skontaktuj się z nami:
Ogólnopolski numer serwisowy
(w godzina 6:00 do 24:00):
662-869-662