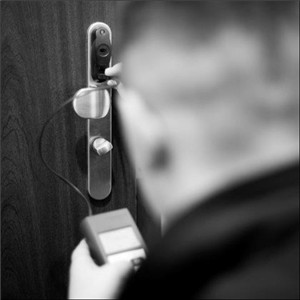 Naprawa zamków to usługa, którą warto zlecić specjalistom. Osoby niedoświadczone mogą jedynie pogorszyć stan zamka. Ślusarze z katowickiego Pogotowia zamkowego z dzielnicy Janów posiadają wiedzę i umiejętności na bardzo wysokim poziomie, które sprawiają że są specjalistami w swojej branży. Dlatego, jeżeli uważasz że Twój system antywłamaniowy potrzebuje naprawy, wezwij fachowca z Pogotowia zamkowe Katowice-Janów.
Co jeszcze oferujemy?
Nasza oferta usług ślusarskich jest bardzo bogata. Zajmujemy się montażem zamków oraz wymianą zamków. Działamy ekspresowo w niekorzystnych sytuacjach – w przypadkach zablokowanych systemów antywłamaniowych przeprowadzamy awaryjne otwieranie drzwi a także awaryjne otwieranie samochodów.
Pogotowie zamków Katowice-Janów prowadzi serwis zamków, w tym serwis Gerda oraz serwis Dierre.
 
Ogromnym atutem katowickiego Pogotowia zamkowego jest czas pracy. Działamy całodobowo, 7 dni w tygodniu. Co więcej, dyżurujemy we wszystkie święta. Wystarczy zadzwonić – kontakt – 662-869-662
Naprawianie zamka w drzwiach to nasza specjalność – Polecamy się!
Kompleksowe obsługa ślusarska w Katowicach

Zajrzyj do naszego sklepu internetowego z zamkami (www.kupzamek.pl)

Sklep z zamkami do drzwi antywłamaniowych
Katowice ul. Morcinka 11
Do sklepu zapraszamy od poniedziałku do piątku
w godzinach 9:00 – 17:00

Potrzebujesz więcej informacji na temat naszych usług? Skontaktuj się z nami:
Ogólnopolski numer serwisowy
(w godzina 6:00 do 24:00):
662-869-662